Concrete Removal Made Simple By Kraken Junk Removal of Johnson City, TN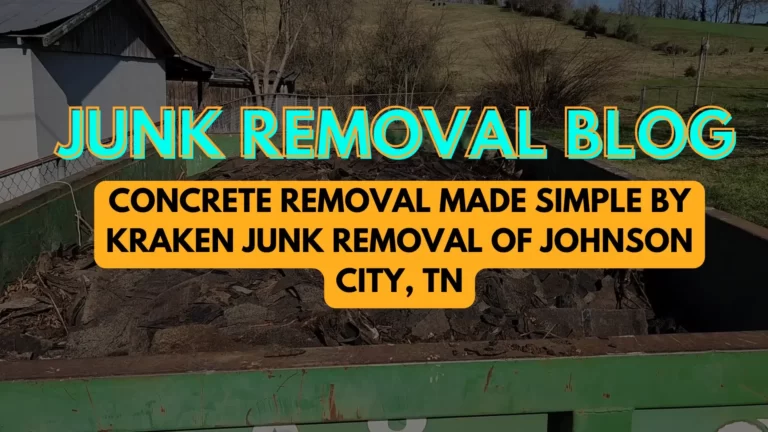 Kraken Junk Removal of Johnson City, TN offers a simple and efficient solution for concrete removal. Here's how we make the process easy for you:
Schedule an appointment: Contact us to schedule an appointment at a time that's convenient for you. We offer flexible scheduling options to accommodate your needs. You can reach us by phone at (423) 430-3921 or you can email us to schedule a pickup.
On-site estimate: Our team will arrive at your property to assess the concrete removal project and provide you with a free, no-obligation estimate. If you prefer, you can also text us several pics of the job you have. 
Concrete removal: Once you've approved our estimate, our team will begin the concrete removal process. We use specialized equipment to safely and efficiently remove concrete from your property.
Cleanup: After the concrete is removed, our team will thoroughly clean up the area, leaving it in pristine condition.
Disposal: We are committed to responsible disposal practices, and will ensure that the concrete is disposed of in an environmentally-friendly manner.
Payment: We accept a variety of payment methods, including cash, check, credit card and mobile payment such as Venmo. You will only be charged for the work that we have done. Our up-front pricing ensure no hidden charges.  
At Kraken Junk Removal of Johnson City, TN, we take pride in providing our customers with a stress-free and hassle-free experience. Our team of professionals is fully licensed and insured, and we are committed to providing you with the highest level of service possible. Contact us today at (423) 430-3921 to schedule your concrete removal pickup!